"NOW EASILY TRACK YOUR LOCATION & NAVIGATE WHILE RIDING THE 2 WHEELER"
SAVE YOUR TIME & YOUR COSTLY FUEL NAVIGATING THROUGH THE TRAFFIC WITH OUR PREMIUM NEXT -GEN NAVIGATION MOBILE HOLDER
PERFECT FOR ALL KINDS OF 2 – WHEELERS
ITS PERFECT FOR ALL TYPES OF BIKE, E-BIKE SHOPPING CART, SCOOTER, SCOOTY & CYCLE.
SENSITIVE 360° ROTATING SCREEN
THE 360° ROTATING SCREEN IS MADE WITH PROFESSIONAL SENSITIVE TPU MATERIAL, THE TRANSPARENCY OF THE TOUCH SCREEN ALLOWS YOU TO KEEP YOUR PHONE CLEARLY VISIBLE DURING RIDING.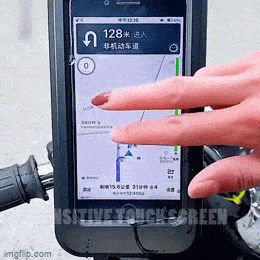 TREE FOLD CYCLIC BRACKET
THIS HELPS YOU TO ADJUST ITS STAND ACCORDING TO YOUR VIEW POINT ON SMARTPHONE.
SET IT UP AT ANY ANGLE AND ANY HEIGHT ACCORDING TO YOUR COMFORTABLE VIEW POSITION WHILE DRIVING THROUGH THE TRAFFIC

PROTECTIVE COVER AND 100% WATER PROOF
OUR PHONE CASE ADOPTS FULLY ENCLOSED DESIGN, WITH IPX LEVEL OF WATERPROOFING PERFORMANCE, PROVIDING FULL PROTECTION FOR YOUR PHONE EVEN WHEN YOU RIDING IN THE RAINY DAY.
IT IS 100% WATER PROOF AND DUST PROOF. CARRY ON WITH YOUR NAVIGATION EVEN IN RAIN & STORM
1- MINUTE EASY SETUP
THE BICYCLE PHONE MOUNT IS EASY TO INSTALL WITHOUT TOOL, YOU JUST NEED TO LOOSEN THE TIE BARS, THEN BUCKLE UP THE HANDLE BAR.
SET IT UP EASILY ANYWHERE ,ANYWHERE. LIGHT- WEIGHT , FOLDABLE AND EASY TO CARRY.

MAGNETIC LOAD BEARING & STABILTY
KEEPS THE MOBILE STABLE WHILE NAVIGATING THROUGH ANY KIND OF ROUGH TERRAIN OR ROAD.
THE STRONG 3- PIVOT STAND HELPS YOU RESTRICT ANY KIND OF UNNECESSARY MOVEMENT WHILE YOU DRIVE THROUGH UNEVEN SURFACE OR ROAD.

ITS PERFECT FOR ALL TYPES OF BIKE, E-BIKE SHOPPING CART, SCOOTER, SCOOTY & CYCLE.
GET – SET – GO FOR YOUR TRAVEL, CYCLING, 2 – WHEELERS HIKE WITH OUR NEXT-GEN MOBILE HOLDER AS YOU EXPLORE THE WORLD.
FREQUENTLY ASKED QUESTIONS
1. WHERE IT IS MADE?
A: IT IS MADE IN INDIA.
2. WHAT IS THE SHIPPING TIME?
A: IT IS WITHIN 2 TO 3 DAYS. ORDER PROCESSING TIME IS 24-48 HOURS.
3. IS CASH ON DELIVERY AVAILABLE?
A: YES, CASH ON DELIVERY IS ALWAYS AVAILABLE.
4. WHAT IS THE DELIVERY TIME?
A. THE DELIVERY TIME IS BETWEEN 3-5 DAYS.
5. IS THERE ANY RETURN-BACK GUARANTEE?
A. YES, WE PROVIDE 7-DAY RETURN-BACK GUARANTEE.